Monarch Spinning Wheel from SpinOlution
(formally the Mach III)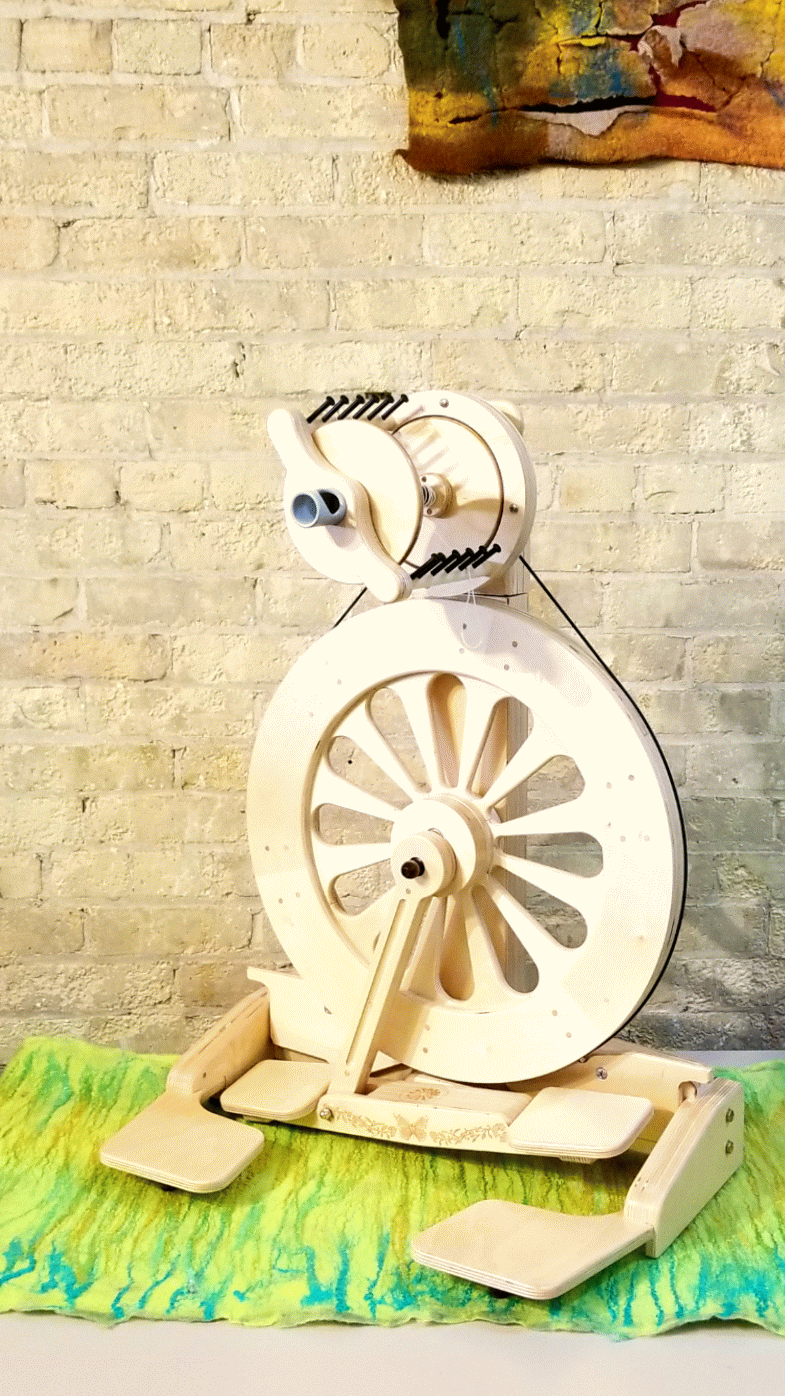 The Monarch is our production studio wheel for professional spinners who need a comfortable wheel that they can spin at for hours. Featuring toe breaks for stopping on a dime, and 5 different flyer head sizes to choose from (4A oz, 8 oz, 16 oz, 32 oz, and 64 oz) - there is no other wheel as versatile on the market as the Monarch.
MODULAR WHEEL. Our 8 oz, 16 oz, 32 oz, and 64 oz flyers are interchangeable between the Monarch and the Firefly. Swap flyers between these two wheel bases for multiple wheel options.
The Head, Flyer, and Bobbins are compatible and interchangeable with the Firefly.

You can spin yarn from lace weight to bulky on this wheel with a range of ratios

Our bobbins remove without a hassle thanks to the easily-removable magnetic orifice bar.

The tension knob is easy to adjust for the perfect uptake every time.

Heel rests and multiple rubber feet help to keep the wheel stable and stationary.

Two toe brakes bring the wheel to a gentle and full stop.

The wheel is made with heavy duty construction, out of warp resistant furniture-grade birch plywood, for years of dependable use.

All SpinOlution wheels are designed and manufactured in America.

SPECIFICATIONS
Weight: 25 lb
Height: 32 inches
Width: 24 inches
Depth: 12 inches
Monarch Price List (includes shipping to USA)
Wheel with 4A accelerated flyer & 3 Bobbins $1,259
Wheel with 8 oz Flyer & 3 Bobbins $1,259
Wheel with 16 oz Flyer & 3 Bobbins $1,529
Wheel with 32 oz Flyer & 3 Bobbins $1,529
Butterfly engraving Option
Spinner side of Wheel $125
Audience Side of Wheel $125
Base and sides $125
Studio Packages
Monarch Fine Yarn Package 4 0z / 8 oz $2,019
Monarch Classic Yarn Package 8 0z / 16 oz $2,019
Monarch Bulky Yarn Package 8 0z / 32 oz $2,019
Monarch Art Yarn Package 16 0z / 32 oz $2,049
Monarch Base Only* $929